Dealerships are resilient businesses. They showed positive return-on-equity even at the height of the Financial Crisis.* Now, amid COVID-19, dealers again are tasked to respond quickly to optimize cash flow.
Many choose to consolidate dealership technology solutions in the Dealership Management System (DMS) to keep the business operational. Long-term implications, however, caused by potential attitudinal changes in consumer behavior from the coronavirus, are hard to predict. Among other external factors, they will determine the evolution of the dealership business model and its stack of DealerTech applications. The famous ACES – Autonomous driving, Connected vehicles, Electrification of the powertrain, and Shared Mobility – initiated the creation of a new mobility economy that is about to unfold. Although unsure about the exact road map, we will see a new competition approach emerge in which dealers, Original Equipment Manufacturers (OEMs), Dealer Service Providers (DSP), and others will partner and compete for the end-consumer relationship at the same time.
Fragmented Dealership Technology Market
The futures of the dealership business model and dealership technology are intertwined. One cannot live without the other. Dealership technology only exists to serve the exceptional retail needs of its primary target group: car/truck dealers. On the other side, operators of dealerships recognize the need for DealerTech as an enabler to evolve the business model.
With over 700 dealership technology vendors in 40+ categories, the market for dealer software applications is crowded with a long tail of smaller applications sitting on top of only a few DealerTech platforms – mainly DMS.* With an abundance of choices and intense competition among DSP in categories of a high rate of adoption, come great opportunities for dealers. Switching costs have never been lower considering the pressure on DealerTech pricing, and the stronger focus on transition and success management related to converting from one system to another.
COVID-19 Dealership Technology Adjustments
Changing DMS may not be the only path in uncertain times to optimize cash management. Dealers are also reviewing their current DealerTech stack to cut fat and offload underutilized applications where possible. With a sharper focus on analytics, dealers are not only trying to optimize cash by collecting on Contracts-In-Transit or Warranty Reimbursements, but also identifying the right opportunities in variable and fixed-ops like off-leases, commercial (fleet) buyers, or recalls. Digital Retail applications can offer a lifeline in states where online sales are possible, and pickup and delivery, as well as mobile service systems, provide an outlet to keep service and parts running.
Furthermore, remote work and home offices require a reset or reconfiguration on some of the elements in the DealerTech stack. For example, either by offering remote access or customizing the setups if shared services like centralized accounting and payroll in dealers groups are implemented.
Short-Term Concerns Fuel Dealership Technology CX Needs
Despite a substantial hit in vehicle sales during COVID-19, the general hope among dealers and DealerTech solution providers is to see the relevance of personal transportation and car ownership increase. After all, our homes and cars are the only private places to feel safe. A dealer poll in 2020 suggests that "Re-inventing the dealership business model for long-term success" is the biggest concern at the moment for 8 out of 13 dealers.* Embracing change and customer experience management may not only be necessary for the sake of the dealership survival, but also for creating a competitive advantage for the coming years.
Research from McKinsey & Company indicates that leaders in Customer Experience (CX) management had a three times higher total return to shareholders than laggards during and after the financial crisis in and around 2008. Shifting dealership value propositions to a more robust customer-centric mobility approach may offer the right path forward to defend the relevance of the dealership business model and to escape margin compression. Consequently, the significance of dealership technology applications that orchestrate the customer journey and have a strong focus on capturing and nurturing customer engagement opportunities may see uplift in dealer demand. Value propositions for dealers will circle more around digital assets and experience management versus the traditional analog approach to inventory-centric process management.
The Rise of the Engagement Platforms
However the new vehicle retail norm will unfold in the different local markets in North America, one has to conclude that Mobility as a Service gravitates around the consumer, and not around the vehicle. Regardless if this is Digital Retailing applications or the existing DealerTech stack to manage the in-store customer experience. Dealers are required to do both, look beyond the traditional sales funnel to map the omnichannel end-to-end customer journey, and to connect the different DealerTech applications to convert consumers traveling in the customer experience loop.
Our dealer poll indicates that Customer Engagement and Digital Retailing systems will become the most critical DealerTech applications in 5 years. As our automotive retail industry is not known for its best practices in data sharing and collaboration, one may conclude that dealers will drift more towards customer engagement platforms. Those tend to offer native data flows among all available modules. Alternatively, following a best-of-breed approach may lack the necessary data integrations with other crucial pieces in the road to sale or service.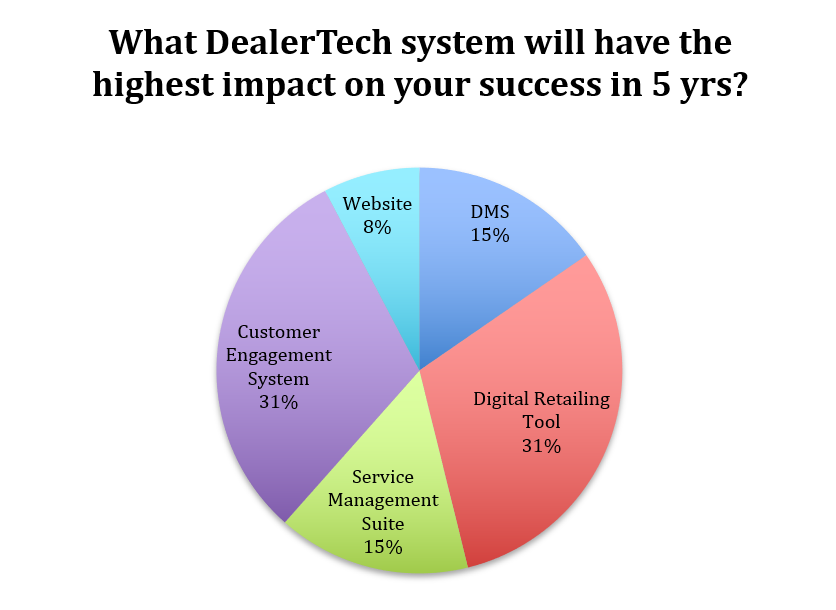 Dealership Technology Evaluation and Selection
In other words, the feature breadth and depth of DealerTech platforms may remain one of the most important dealer decision-making points when selecting one dealership technology vendor over the other. As many of us were hoping that the openness of data integrations and associated costs would regulate the DealerTech market, we have to conclude that change among dealers comes slowly. COVID-19 may not only change the way dealers serve their consumers but also accelerate the transition to DealerTech platforms. By reducing the existing DealerTech stack from 10-15 to a more manageable count, dealers would be able to improve workflows and reduce the associated transaction and overhead costs.
For this to be a viable long-term approach, it is vital to gain OEMs backing. After all, OEMs have a strong influence on the dealers' set of software applications when certifying or approving new vendors as we currently witness with Digital Retailing offerings. Alternatively, to pushing only one or a few vendors, dealers may recommend to their manufacturer partners to rewrite the OEM integration points allowing dealers a more level playing field when making their platform choices. Every single OEM is currently rebuilding its set of Application Program interfaces (API) to accommodate new vehicle requirements for connected vehicles and over-the-air software updates or in-vehicle services. Why not rewriting the dealer and DealerTech API at the same time so that all stakeholders have an equal opportunity to serve consumers in new way
About our Guest Author
Stefan Drechsel is the founder of DealerTech Nerd. His mission is to provide a better platform to explore dealership technology.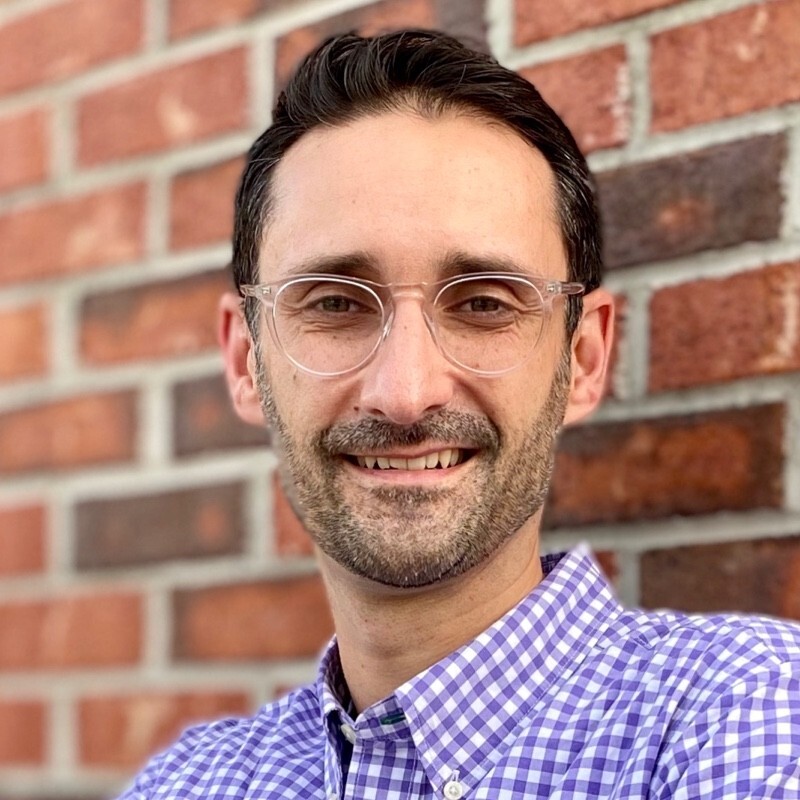 Prior, Stefan spent years guiding dealers through the negotiations of dealership technology and assisting others in navigating through the complex world of DealerTech. The NADA selected him to author the Dealer Guide to Automotive CRM. Automotive News featured Stefan on DMS/Third-Party integration. He is a regular speaker for DealerTech trends at NADA, ADAs, 20 Groups, and other events. His favorite car is the East German Trabant 601.
*They showed positive return-on-equity even at the height of the Financial Crisis. Source: Kerrigan Advisors
*With over 700 dealership technology vendors in 40+ categories, the market for dealer software applications is crowded with a long tail of smaller applications sitting on top of only a few DealerTech platforms – mainly DMS. Source: DealerTech Nerd Research
*A dealer poll in 2020 suggests that "Re-inventing the dealership business model for long-term success" is the biggest concern at the moment for 8 out of 13 dealers. Source: DealerTech Nerd and DealerBuilt Live Webinar Session 4/28/20