Earlier this month, I published Part 1 of my article that contemplates the future of dealer technology and the pivotal role that the DMS – dealership management system – will play in it. In this article, I made the case that the DMS platform of the future will move well beyond its traditional role as the system of record and become the dealership's system of fulfillment, insight, and engagement.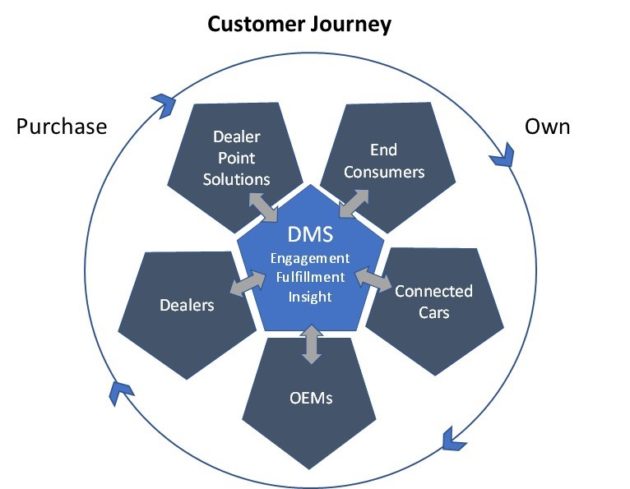 In these new roles, the DMS will serve as the hub of a dealership's technology ecosystem. It will connect all ecosystem members – dealers, end consumers, OEMs, various point solutions in the dealer tech stack, and connected cars – and unite data from all of these players to enable highly-personalized content and timely insights that optimize the consumer's purchase and ownership journey, minimize friction along this journey, and create stickiness with the dealership.
Now, in Part 2 of my article, I want to offer some practical guidance and focus on this question: how can forward-looking dealers lay a foundation to meet this future vision as they're making DMS decisions today?
Three Considerations to Help Future-Proof Your DMS
As you assess an existing or potential new DMS through the lens of the solution's future role as a system of fulfillment, insight, and engagement, there are three important areas that I encourage you to consider. These include a DMS provider's ability to deliver:
A flexible integration platform that's free of economic rent
Look for a DMS with an integration platform that's designed to enable a best-in-class technology strategy, not one that favors the DMS provider's own products – after all, customer experience matters and you'll want the freedom to use your preferred solutions and the agility to evolve your tech stack over time.
Consider technical capabilities, such as real-time API services that enable the DMS to effectively serve as the dealership's data hub, and whether the DMS provider offers features and tools to help manage consumer privacy concerns as their data flows across your technology ecosystem. Also assess partner relationships – does the DMS offer robust OEM integrations? Does the company have a strong history of working with up-and-coming dealer tech providers and enabling DMS integration with innovative new technologies?
Of critical importance, understand whether the DMS uses third-party integrations as a profit center. Are fees charged to the dealer when your own data is being exchanged between the DMS and your other point solution vendors? Will your vendors also be charged on an ongoing basis to exchange data with your DMS? As noted in Part 1 of my article, this kind of "economic rent" is not only unhealthy for your pocketbook, but it can limit your options in your tech stack and it discourages technology innovation in our space.
Scalable customer experience tools built into the core DMS
Assess how well the DMS supports a seamless, closed-loop customer journey and at what price tag (i.e., how many separate solutions must also be licensed to achieve the customer experience you seek to deliver?) You'll want to understand the range of customer-facing features (if any) that are included within the core DMS system and its price. Look for customer experience tools that leverage online, mobile, and social platforms to enable your dealership to create a frictionless experience and better engage with its customers – digital MPIs with video/photo upsell features, support for e-signatures and mobile payments, and the ability to capture verified customer reviews and share them via web and social channels are just a few examples.
By employing tools that are embedded within the DMS itself, rather than licensing them individually, you're able to avoid the potential landmines of a fragmented customer experience when separate tools don't play well together, and you can eliminate the cost of licensing some of these tools separately. In addition, if you're just getting started on enhancing the experience at your store, having tools available within the DMS that can be easily introduced when you're ready allows you to scale up your customer experience efforts at a pace that makes sense for your dealership.
A strong commitment to information security
As valuable and important as data is when it comes to continuously improving your ability to engage with customers in a personalized and seamless way, there is also a clear obligation for our industry to protect customers' personal information. Driven by federal regulations, such as the GLB Safeguards Rule and the FTC Privacy Rule, it is incumbent upon dealers to develop, implement, and maintain a comprehensive written information security program to protect customer information, as well as to take steps to ensure that their service provider partners have also implemented appropriate safeguards.
To this end, evaluating a DMS provider should always include a thorough assessment of the vendor's information security program and ability to protect customer data. Consider the following areas, at minimum, in this aspect of your vendor review:
Written information security policy
Standards and access controls in place to protect physical and logical integrity of IT resources and appropriately secure IT systems, network resources, and applications
Monitoring tools in place to identify data security events, verify effectiveness of protective measures
Personal information protected both in transit and at rest
Periodic risk assessments by independent 3rd-party (e.g., network vulnerability and penetration testing)
Information security training for employees
Incident response program
In-house cyber security expertise
Reputable hosting services partner
An Eye Toward Future Profitability and Success
Looking towards the future, the DMS will play an even more strategic and pivotal role as the epicenter of your dealership's technology ecosystem. Identifying a DMS partner now that can successfully evolve to fulfill the role of system of fulfillment, insight, and engagement will be critical to deriving increasing value from data, optimizing your customers' experience, and ultimately maximizing your dealership's profitability and success. This is the future that our DealerBuilt team is passionately and determinately striving towards, side by side with our dealer clients and our partners.